HyperChiller V2 Iced Coffee Maker
| | | | |
| --- | --- | --- | --- |
| $29.99 | | Sale Price | |
| $1.50 | | Donation Included | |
| | | | |
| --- | --- | --- | --- |
| $29.99 | | Sale Price | |
| $1.50 | | Donation Included | |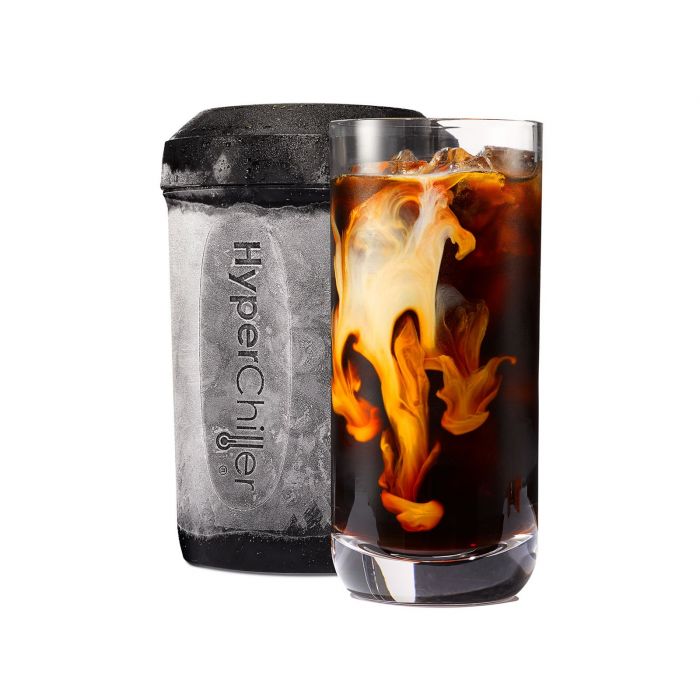 The fastest way to perfect iced coffee.
Don't settle for watered down iced coffee or wait all day for a cold brew recipe. Turn hot coffee into perfect iced coffee in as quickly as one minute!
How it works: The HyperChiller's patented multi-chamber design keeps the coffee and ice separated with two layers of food grade stainless steel.
It's compatible with all brewing methods and even fits directly into most full size single cup brewers. In one minute after your fresh hot coffee is inside it will be chilled by up to 130°+, without dilution!
What's new for V2?
Deeper

lid

, makes it significantly easier to pour in liquids
Improved placement of vents in

lid

. They are there to regulate pressure inside of the ice chambers. New placement will significantly reduce the amount of melted ice that may drip while pouring out
Improved pour

spout for a more accurate and consistent flow

Updated aesthetics with a new diamond facet design on side of

lid

grip area & lower portion of outer cup

Improved threads for a better seal & ease of assembly
In the Box:
Plastic Lid
Plastic HyperChiller Cup
Large Stainless Steel Cup
Small Stainless Steel Cup
Set up guide
Tech Specs:
High volume 12.5oz capacity
Use it twice before freezing again (up to 25 oz)
Top shelf dishwasher safe
Material: Food grade stainless steel & BPA free plastic
Dimensions: 4.25 x 4.25 x 6.75
More Information
Donation Cost
1.50
Description

The fastest way to perfect iced coffee.

Don't settle for watered down iced coffee or wait all day for a cold brew recipe. Turn hot coffee into perfect iced coffee in as quickly as one minute!

How it works: The HyperChiller's patented multi-chamber design keeps the coffee and ice separated with two layers of food grade stainless steel.

It's compatible with all brewing methods and even fits directly into most full size single cup brewers. In one minute after your fresh hot coffee is inside it will be chilled by up to 130°+, without dilution!

What's new for V2?

Deeper

lid

, makes it significantly easier to pour in liquids
Improved placement of vents in

lid

. They are there to regulate pressure inside of the ice chambers. New placement will significantly reduce the amount of melted ice that may drip while pouring out
Improved pour

spout for a more accurate and consistent flow

Updated aesthetics with a new diamond facet design on side of

lid

grip area & lower portion of outer cup

Improved threads for a better seal & ease of assembly

In the Box:

Plastic Lid
Plastic HyperChiller Cup
Large Stainless Steel Cup
Small Stainless Steel Cup
Set up guide

Tech Specs:

High volume 12.5oz capacity
Use it twice before freezing again (up to 25 oz)
Top shelf dishwasher safe
Material: Food grade stainless steel & BPA free plastic
Dimensions: 4.25 x 4.25 x 6.75