Dogtra - ARC HANDSFREE PLUS Slim Ergonomic 3/4-Mile Remote Dog Training E-Collar with HANDSFREE for Discreet and Precise Control
| | | | |
| --- | --- | --- | --- |
| $269.99 | | Sale Price | |
| $13.50 | | Donation Included | |
| | | | |
| --- | --- | --- | --- |
| $269.99 | | Sale Price | |
| $13.50 | | Donation Included | |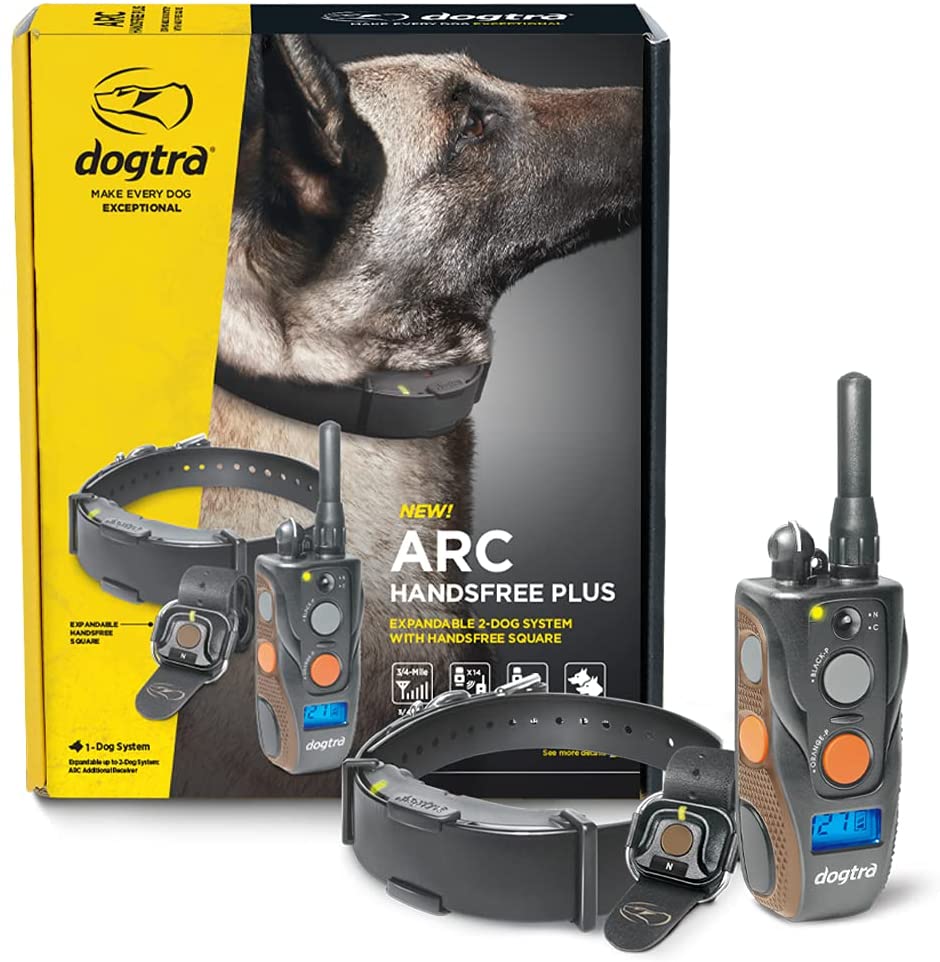 Astute trainers with proper training tools are the key to unleashing your dog's potential. For over 30 years, Dogtra has collaborated with industry professionals to create tools for e-collar training, GPS tracking, and ball training to support dog owners in developing top-notch dogs. Trusted by professional dog trainers, K-9 officers, and hunters, Dogtra enhances your training journey with durable training products, equipped with patented accurate and intuitive control, to ensure the best experience.
Dogtra ARC HANDSFREE PLUS Expandable
The Dogtra ARC HANDSFREE PLUS is expandable to 2-dogs and features a Dogtra HANDSFREE SQUARE, which allows you to control a transmitter discreetly and remotely. You can instantly access different functions at your fingertips and use the ARC HANDSFREE PLUS for a diverse range of training scenarios. Each HANDSFREE SQUARE can be paired to different functions and allows many users to access any feature, at any time within 33 feet of the transmitter. A replaceable coin lithium CR2032 battery is included. With comfort and safety in mind, the ARC HANDSFREE PLUS features an ergonomic receiver shaped to the dog's neck. The IPX9K waterproof rating makes the ARC HANDSFREE PLUS ready for the most demanding training conditions.
The HANDSFREE SQUARE gives you the freedom to multitask and have discreet fingertip control. Built with a flexible strap and intuitive buckle, the HANDSFREE SQUARE can be fastened to your wrist, palm, or fingers. The Nick, Constant, or Pager functions can be coded for you to operate the system remotely.
The range of the ARC HANDSFREE PLUS Training E-Collar is perfect for any and all training commands for your dog. With a range of 3/4-Mile, this e-collar is perfect for easy obedience, hunting, and K-9 Training. Use the HANDSFREE SQUARE within 33 feet of the transmitter to quickly access any feature.
Expandable up to 2-dogs, the ARC HANDSFREE PLUS gives you the option to easily pair a second receiver and up to 14 HANDSFREE SQUARES.* Each SQUARE can be paired to different functions and allows many users to quickly access any feature. *ARC ADDITIONAL RECEIVER and additional HANDSFREE SQUARES sold separately.
COMPACT, MEDIUM-OUTPUT E-COLLARS

Product Name
ARC
ARC HANDSFREE PLUS
1900S HANDSFREE
Range
3/4-Mile
Output Type
Medium Output
High Output
Electric Correction Type
Nick/Constant Correction
Vibration Correction Type
Pager Vibration
HPP Vibration
Dog Size
For Dogs as Small as 15 lbs.
For Dogs as Small as 35 lbs.
Correction Levels
127 Correction Levels/Rheostat Dial/LCD Screen
Receiver Type
Ergonomic Slim Reciever
Other Key Features
-
HANDSFREE Remote Controller
Expandibility
Expandable to 2-Dogs
1-Dog Only